In the interest of the health and safety of the Special Olympics Southern California community and due to concerns about COVID-19, we have decided to cancel the 2020 Guardian Bowl.
A new event date for 2021 will be announced in August.
All teams and participants will be carried over to the 2021 event.
Contact Us
Your Impact
We work hard to maximize your investment. For every $1 raised on behalf of our athletes, 84 cents goes directly to program costs. Provide potential supporters with gift options to guide your fundraising efforts. Refer to the following list to let your supporters know where their contribution is going and how they are helping you make a difference in the lives of Special Olympics athletes.
$35 will provide a uniform for an athlete
$50 will provide new sports equipment
$100 will sponsor a child's participation in School Games
$250 will sponsor an athlete for an entire sports season
$500 will sponsor an athlete for one year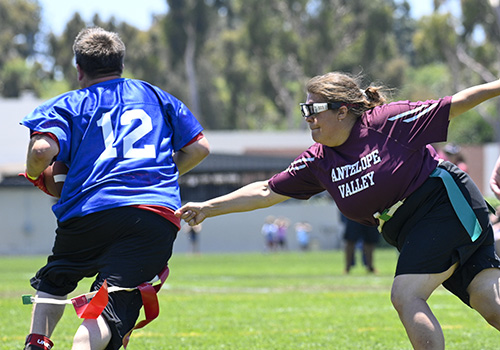 Donate:
Find a Participant or Team:
Participate:
Top Donors
LA Rams
Kohls Cares
Always Advancing
Redlands Police Officers Foundation
Geico Philanthropic Foundation