Are you ready for some football at the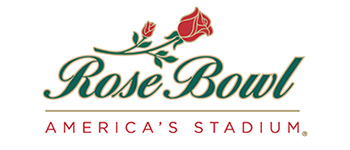 Join us at the Rose Bowl Stadium® on Saturday, March 14, 2020 for the Guardian Bowl! This is the official flag football tournament fundraiser in support of Special Olympics Southern California athletes! Register in one of our three divisions (Unified, Sworn, Open) and play in this tournament to raise funds and awareness for Special Olympics athletes. Each team is guaranteed to play 3 games on the iconic Rose Bowl field. Lunch and swag for each player is also included.
Register your team today!
Event Information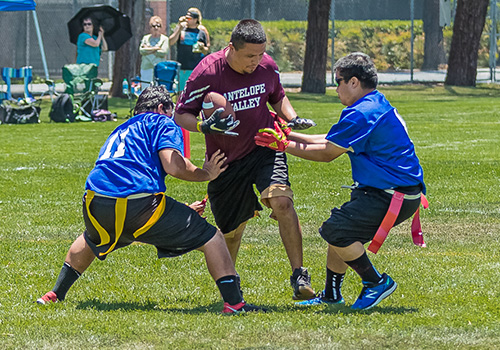 When?
Saturday, March 14, 2020
Where?
Rose Bowl Stadium
Information
$1,500 per team by March 1
15 people per team, Unified teams - 10 people
Guaranteed 3 games!
SWAG for all players!
REGISTER
Minimum Team Fundraising Committment: $1,500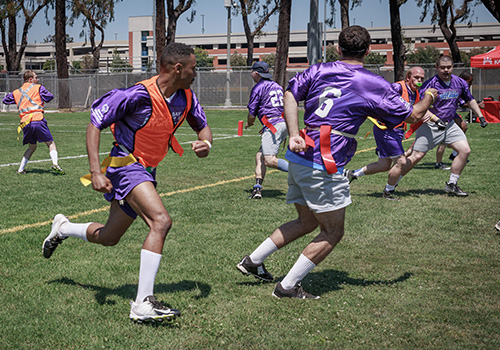 Start a Team
Want to create a team for the Guardian Bowl? Register today to form your team! There are 3 divisions to choose from:
Unified - 5 SOSC Athletes & 5 members of law enforcement/military
All Sworn/Military - 15 members of law enforcement/military
Open - 15 people on a team, can be mixed corporate/community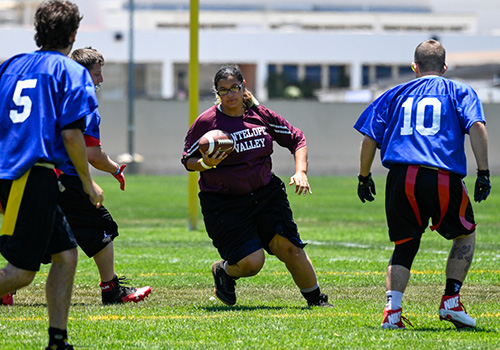 Join a Team
Has a team already been created for the Guardian Bowl and you want to join them?

Register and join a team!
Make a Donation
There are three simple ways you can make a donation and support Special Olympics Southern California. Select one of those options below.
Donate by Check or Cash
We accept check/money order, cash, and credit cards. Checks and money orders should be made payable to Special Olympics Southern California and the memo on the check should include the participant's or team's name and "Guardian Bowl". Please complete the Offline Donation Form (PDF) and mail it and your gift to:
Special Olympics Southern California
ATTN: Guardian Bowl
1600 Forbes Way, Suite 200
Long Beach, CA 90810
All donations are tax deductible. Special Olympics Southern California is a 501(c)(3) non-profit, and our tax ID is 95-4538450. All supporters that make a donation online or offline will receive a letter of acknowledgment as receipt for their gift.
Fundraising Resources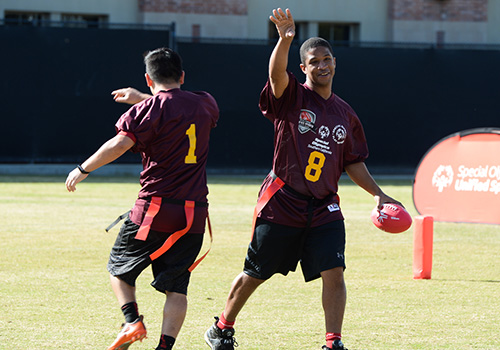 Social Media & Email
Team Resources
How Your Donation Helps

Every dollar raised through the Guardian Bowl event will help fund Special Olympics Southern California programs in your community. Special Olympics Southern California enriches the lives of athletes with intellectual disabilities and their communities through sports, education, and athlete health.

Learn more about how we change lives.
Contact Us
Your Impact
We work hard to maximize your investment. For every $1 raised on behalf of our athletes, 84 cents goes directly to program costs. Provide potential supporters with gift options to guide your fundraising efforts. Refer to the following list to let your supporters know where their contribution is going and how they are helping you make a difference in the lives of Special Olympics athletes.
$35 will provide a uniform for an athlete
$50 will provide new sports equipment
$100 will sponsor a child's participation in School Games
$250 will sponsor an athlete for an entire sports season
$500 will sponsor an athlete for one year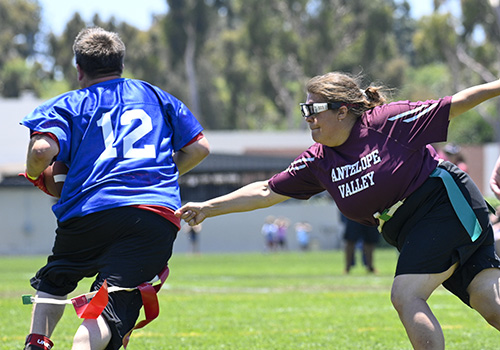 Co-Presenting Sponsor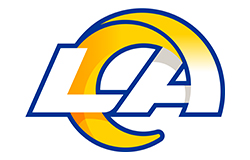 Sponsor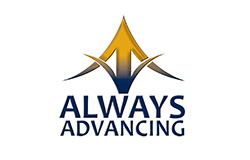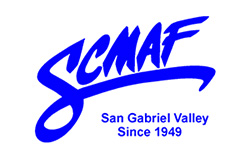 Donate:
Find a Participant or Team:
Participate:
Top Fundraisers
Register for a Unified Team
Register for a Sworn Team